WHAT IS COSMETIC ACUPUNCTURE?
Cosmetic Acupuncture is also known as Acupuncture Facial Rejuvenation, Anti-Aging Acupuncture or Acupuncture Facelift.  It is a specialist field of acupuncture aimed at naturally improving the health and appearance of the facial tissues.   It is a gentle yet highly effective alternative to cosmetic surgery, botox, collagen injections, dermabrasion, etc.
HOW DOES IT WORK?
In Western medical terms, cosmetic acupuncture increases blood circulation to the face, improves muscle tone, stimulates collagen and elastin production and improves lymphatic drainage.  In Traditional Chinese medical terms, it increases the flow of Qi (energy) and blood to the face, and also balances the energies of the internal organs so that inner health is expressed in the face.  After a treatment, the skin generally looks firmer with improved muscle tone, better facial color and a healthy glow. Cosmetic acupuncture also has the added bonus of relieving stress, inducing a sense of relaxation and well-being along with other noticeable health benefits.
WHAT ARE THE NEEDLES LIKE?  DO THEY HURT?
Unfortunately, the word "needle" makes people think of getting a flu shot or blood drawn.  Acupuncture needles are hair-thin pins made from sterilized stainless steel.  In fact, you can fit two acupuncture pins inside the hollow of a standard hypodermic needle.  Most patients feel only a minimal pricking sensation as the needles are inserted; many feel nothing at all.  Once the needles are in place, there is no pain.  Some patients feel warmth, tingling, pressure or other sensations.  These are all positive signs that the acupuncture is beginning to work.
IS IT REALLY A FACELIFT?
The answer is an unequivocal no. In fact, we at East West Acupuncture discourage the use of the term "facelift" in connection with acupuncture, as this creates unrealistic expectations.  One should not expect results like plastic surgery or botox injections where one's face transforms drastically over-night. What can be expected however from our facial rejuvenation program is a more natural, healthier and toned facial appearance.
WHAT KIND OF RESULTS CAN I EXPECT?
Cosmetic acupuncture has the following therapeutic benefits:
A more youthful appearance
Improved tone and elasticity of facial muscles
Erasure of fine lines and reduction of deeper lines
Improved quality of complexion
Firming of under-eye puffiness
Reduction of sagging skin
Lifting of drooping eyelids
Firming of jaw line & diminished jowls
Toning of the neck
In addition to these cosmetic improvements, many general health benefits may be experienced as well:
Relaxation and general well-being
Energy level increased
Digestion improved
Sleep improved
Mild depression or anxiety resolved
Hot flashes or night sweats eliminated
Migraines, headaches, sinus problems relieved
HOW MANY TREATMENTS WILL I NEED?
After even a single treatment, most people will notice their face has a healthy glow and relaxed feeling.  However, in order to get the full benefits of cosmetic acupuncture, it is necessary to do a series of treatments.  At East West Acupuncture, we do a course of 10 treatments, twice a week for five weeks.
Research conducted by the Journal of Clinical Acupuncture on 300 subjects found cosmetic acupuncture to be 90% effective and many patients saw results after one treatment.  However in most cases, it may take 6-7 treatments for visible results to appear.
The results are semi-permanent and may last for a couple of years with regular maintenance treatments every 4-6 weeks.  Some people may need to repeat a course of treatment every year.
HOW IS FACIAL MUSCLE TONE RELATED TO APPEARANCE?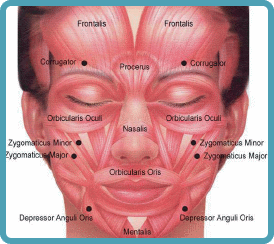 There are 57 muscles in the face. These muscles are attached to your skin and are the true "face lifters." Their movement and relaxation create facial expressions.  As we age, these muscles lose tone, resulting in sagging skin.  Also, habitual tension of the facial muscles can etch lines into your skin.  Cosmetic acupuncture can bring balance to the facial muscles, restoring tone to sagging muscles, and relaxing areas of habitual tension.
ARE THERE ANY SIDE EFFECTS?
No.  Acupuncture is a safe, gentle, non-invasive procedure.
IS COSMETIC ACUPUNCTURE JUST A SUPERFICIAL AESTHETIC TREATMENT?
No.  Acupuncture is a whole-body treatment.  According to Traditional Chinese Medicine, your face mirrors the vitality and overall state of your health.  Acupuncture meridians (channels) carry energy throughout the whole body, from the feet to the face, and connect with the internal organs. If there are imbalances in the organs they will be clearly visible in the face.  An expert practitioner of cosmetic acupuncture will not merely treat the face, but will also address imbalances in the whole body.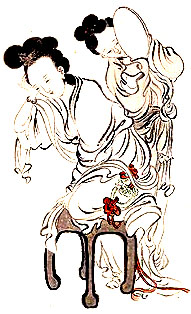 WHO USES COSMETIC ACUPUNCTURE?
In ancient times, cosmetic acupuncture was popular with the Chinese emperors'wives. In recent years celebrities such as Madonna, Cher and Susan Sarandon have given the treatment glowing testimonials in the media.
Cosmetic acupuncture is increasingly being sought out by individuals who value their appearance but are not willing to compromise their health to maintain it.  It fits perfectly into the lives of those who want to "have their cake and eat it too."
WHAT PATIENTS ARE SAYING:
"It's remarkable. My whole face just lightens up. My skin is clearer and smoother, and fine lines are gone."
-- Lauren K.
"Not only have my crow's feet diminished, but I leave each session feeling more balanced and less anxious."
-- Sheila S.
"I really appreciate the change it's made for me. The changes aren't radical like a facelift - which is fine by me!! So don't go in with that expectation. I feel its tightened my skin and lessened appearance of lines. I recommend it to my friends who are open-minded and want a botox alternative."
-- Ariel D.
"Being a tough case, seventy years old with deep facial lines, I didn't have high hopes, but I have been very pleased with the results; the lines have definitely smoothed, and I have a brighter look; but the real test--even my husband of fifty years has commented on the improvement."
-- Betty W.