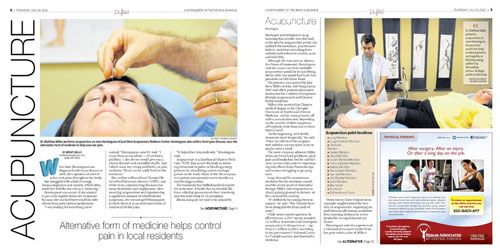 from The Lynchburg News & Advance, Pulse health supplement, July 2012
ACUPUNCTURE:
Alternative form of medicine helps control pain in local residents
BY BRENT WELLS
When Jane Henningson was diagnosed with Lyme disease in 2004, she experienced a lot of aches and pains throughout her body.
She struggled with a lack of energy, intense migraines and anxiety, which often made her feel like she was in a "brain fog."
Henningson was unsure if she wanted to go to her regular doctor for treatment because she worried there would be side effects from prescription medications.
"I was looking for something more natural," Henningson, now 62, said. "I come from an era where — if you had a problem — the doctor would give you a shot in the butt and a handful of pills. And I didn't want any strong antibiotics or pain medicine. Those can be really hard on the intestines."
Her mother suffered from Chronic Obstructive Pulmonary disease (COPD), one of the most common lung diseases that cause bronchitis and emphysema. After receiving acupuncture and experiencing a significant amount of relief from her symptoms, she encouraged Henningson to think about it as an alternative form of treatment for her pain.
"It helped her tremendously," Henningson said.
Acupuncture is a Traditional Chinese Medicine (TCM) that assists the body in releasing toxins and negative or blocking energy patterns by stimulating various strategic points on the body. Many of the 365 acupuncture points correspond to nerve bundles or muscle trigger points.
The treatment has baffled medical experts for some time. It holds that an invisible life force called qi (pronounced chee) travels up and down the body in 14 meridians.
Illness and pain are said to be caused by blockages and imbalances in qi. Inserting thin needles into the body at the precise acupuncture points can unblock the meridians, practitioners believe, and treat everything from arthritis and asthma to anxiety, acne and infertility.
Although she was open to alternative forms of treatment, Henningson said she wasn't sure how available acupuncture would be in Lynchburg. But in 2006, she found East West Acupuncture on Old Forest Road.
The practice was opened by Matthew Miller and his wife Wang Yao in 2002 and offers patients alternative treatments for a variety of symptoms through acupuncture and Chinese herbal medicine.
Miller, who received his Chinese medical degree at the Chengdu University of Traditional Chinese Medicine, said he starts patients off with a consultation and, depending on the severity of their symptoms, will typically treat them two to three times a week.
"In the beginning, we'll do the treatment more frequently," he said. "Once the effects of the acupuncture stabilize, we can space it out to maybe once a week."
The most common ailments Miller treats are lower back problems, neck pain and headaches, but he said he's seen success with patients experiencing side effects from chemotherapy and women struggling to get pregnant.
Long shunned by mainstream medicine but for centuries considered the crown jewel of alternative therapy, Miller said acupuncture is slowly gaining ground in doctors' offices around the country.
"It's definitely becoming more accepted," he said. "The Chinese have been doing this for thousands of years."
While some experts question its effectiveness, a 2007 survey revealed 3.2 million Americans had undergone acupuncture in the past year — up from 2.1 million in 2001, according to the government's National Center for Complementary and Alternative Medicine.
These surveys have helped throw scientific weight behind the benefits of acupuncture, supporting its usefulness in alleviating conditions from morning sickness to severe headaches to carpal tunnel syndrome.
Henningson said she experienced a substantial amount of relief from her pain within a few of Miller's treatments.
"I seldom have pain in my body," she said. "I almost never get a headache now. I also have more energy, and I'm less anxious."
CLICK HERE to continue reading the rest of this article at the News & Advance website...